Model NO.:

W-101

Usage:

Paint Spray Gun

Brand:

Sawey

Customized:

Customized

Nozzle & Needle Set:

Stronger Stainless Steel Than Iwata

Fluid Feed System:

Pressure/Gravity/Suction Feed

Trademark:

SAWEY

Specification:

CE

HS Code:

8424200000
Type:

High Pressure Gun

Working Style:

Rotary Type

Condition:

New

Gun Body Material:

Aluminum Alloy

Nozzle Size:

0.8/1.0/1.3/1.5/1.8mm

Weight:

295g

Transport Package:

1PC/Color Box, 24PCS/CTN

Origin:

China
SAWEY W-101 MANUAL SPRAY GUN FOR SMALL to MEDIUM OBJECT
DELICATE QUALITY FOR SURFACE PAINTING, TOP COATING.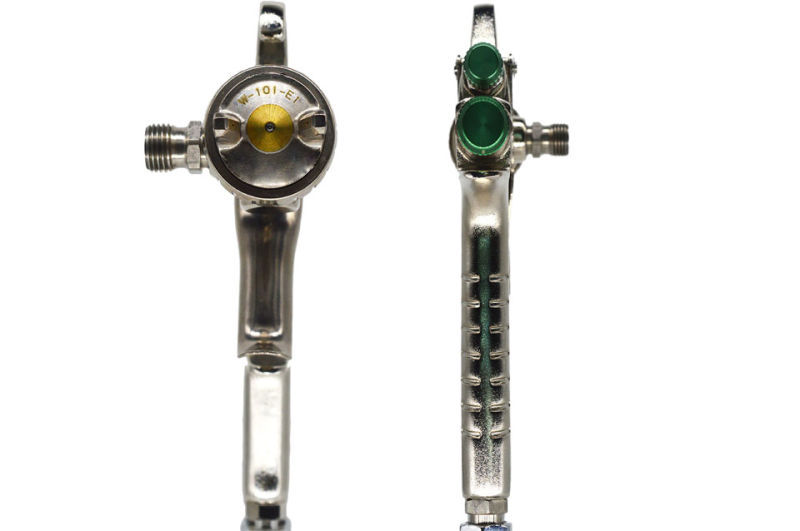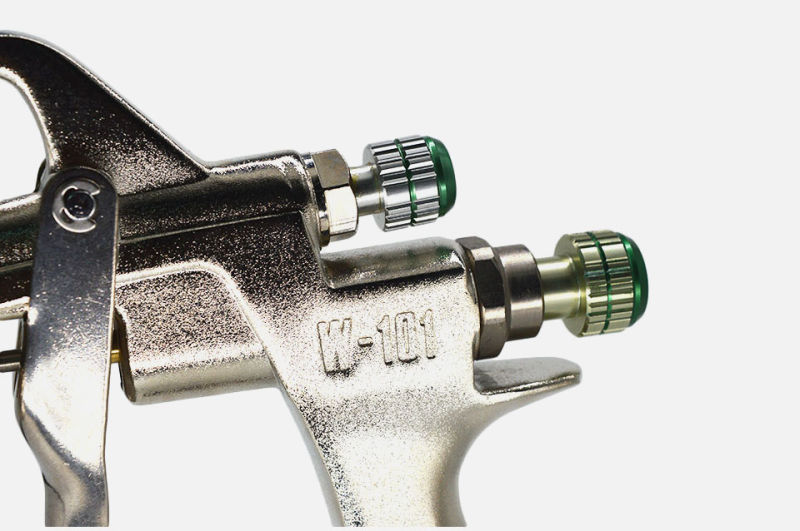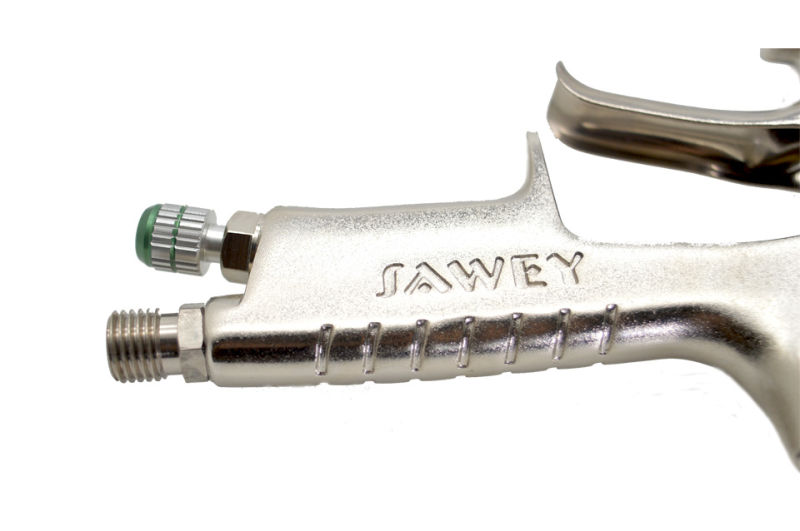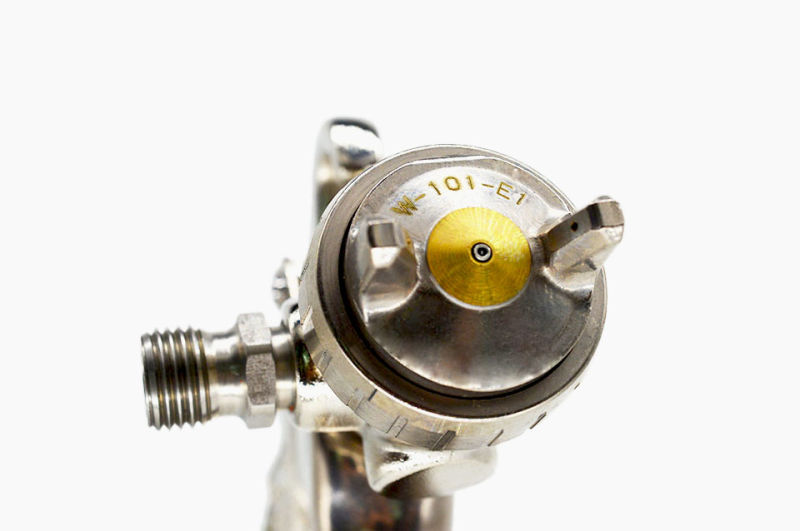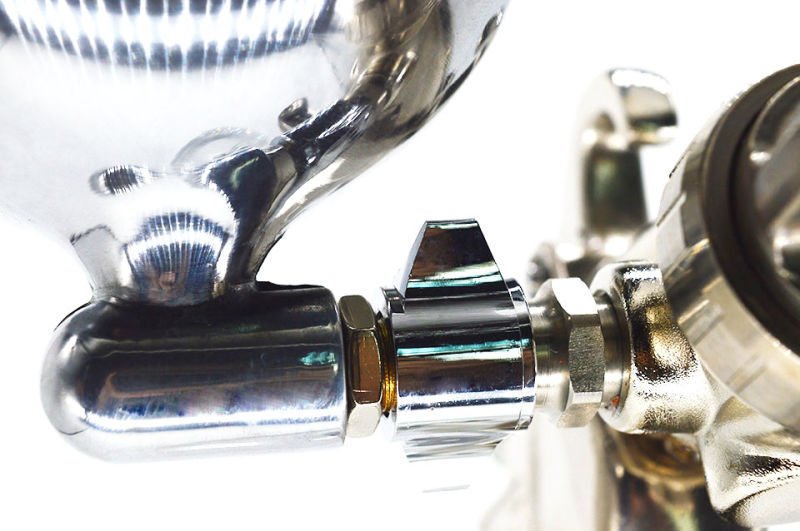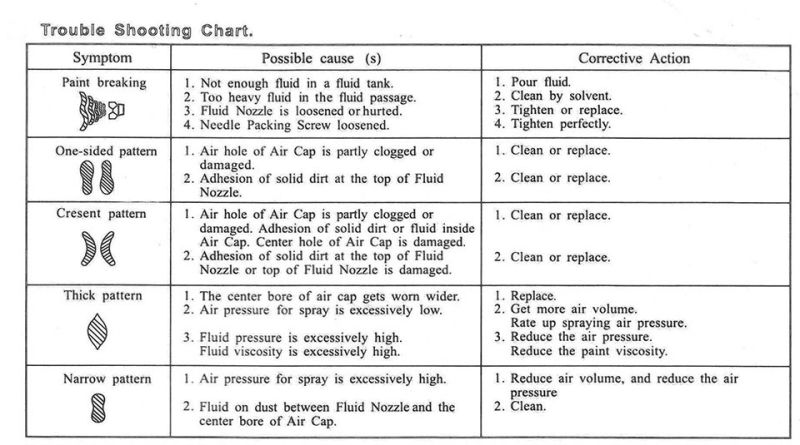 General Automatic Spray Gun
- Suitable for oil-based and water-based spray painting.
- Used with automatic coating equipment, reciprocating machine, coating robots etc. together and used to automatic assembly line production. 
- Common spray products :Â furniture, plastic, wood, stone,electronic products,etc.
Gravity: Â cup PC-4S Â 400ML
Suction: cup PC-2 Â 600ML
 
Model
Type of feed
Nozzle dia  (mm)
Atomizing air pressure MPA(kgf/cm2)
Air comsumption

(l/min)
Fluid output

(ml/min)
Pattern Width(mm)
Atomization
Applied air cap model
Required Air Compressor(kw)
W-101-082P
pressure
0.8
0.29(3.0)
270
150
190
High atomization
E2P
1.5
W-101-102P
pressure
1.0
0.29(3.0)
270
200
220
High atomization
E2P
1.5
W-101-132P
pressure
1.3
0.24(2.5)
220
200
210
High atomization
E2P
1.5
W-101-152P
pressure
1.5
0.24(2.5)
220
250
240
High atomization
E2P
1.5
W-101-101S
suction
1.0
0.24(2.5)
75
85
120
General atomization
E1
0.4~0.75
W-101-101G
gravity
1.0
0.24(2.5)
75
95
130
General atomization
E1
0.4~0.75
W-101-131S
suction
1.3
0.24(2.5)
145
150
155
General atomization
K1
0.4~0.75
W-101-131G
gravity
1.3
0.24(2.5)
145
160
170
General atomization
K1
0.4~0.75
W-101-132S
suction
1.3
0.24(2.5)
225
150
160
High atomization
H2
0.75~1.5
W-101-132G
gravity
1.3
0.24(2.5)
225
160
175
High atomization
H2
0.75~1.5
W-101-134S
suction
1.3
0.2(2.0)
210
140
180
High atomization
H4
0.75~1.5
W-101-134G
gravity
1.3
0.2(2.0)
210
155
205
High atomization
H4
0.75~1.5
W-101-151S
suction
1.5
0.24(2.5)
145
175
170
General atomization
K1
0.75~1.5
W-101-151G
gravity
1.5
0.24(2.5)
145
200
180
General atomization
K1
0.75~1.5
W-101-152S
suction
1.5
0.24(2.5)
225
170
175
High atomization
H2
1.5
W-101-152G
gravity
1.5
0.24(2.5)
225
190
190
High atomization
H2
1.5
W-101-181S
suction
1.8
0.24(2.5)
170
210
170
General atomization
N1
1.5
W-101-181G
gravity
1.8
0.24(2.5)
170
240
190
General atomization
N1
1.5